Předmětem dnešní recenze bude počítačová optická drátová myš Logitech RX250 Premium.
První dojem
Po prvním rozbalení a použití myši na mne zanechala spíše dojem spíše obyčejné tuctové myši. Přesto dodavatel uváděl, že je zlevněna téměř z pěti set Kč. Je pravdou, že značka Logitech má mezi počítačovými periferiemi velmi dobré jméno a například s jiným, bezdrátovým modelem myši od této značky, jsem více než 2 roky plně spokojen.
Co bych modelu RX250 Premium vytknul, byla by to tak trochu podivně vystouplá tlačítka a malinko horší ergonomie. Mnoho z jejích konkurentů se opravdu drží v ruce nezanedbatelně příjemněji. Ale zvyknout se na to dá. Myš je standardně vybavena rozhraním USB pro připojení, součástí balení je také redukce na PS/2 port. Nevím proč, ale čekal jsem od té redukce, aby byla třeba v černém provedení, aby to taky k nečemu vypadalo. Obyčejná redukce, která výrobce nestojí skoro nic, spíše dodává barvy obrazu tuctovosti.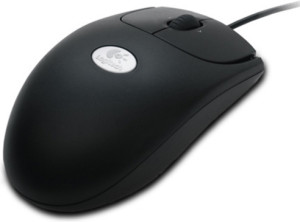 Oproti tomu lze uvést nesporné klady, jako je výborná citlivost a přesnost. Dále by se dal pochválit dostatečně dlouhý přívod a potichá práce kolečkem myši. Kolečko je také možné naklápět do stran a tím scrollovat i v horizontálním směru.
Specifikace
Typ: Drátová s optickým senzorem
Tlačítka: 2 + rolovací kolečko (3. tlačítko)
Rozlišení: 1000 DPI
Rozhraní: USB, PS/2
Barevné provedení: černá, bílá nebo šedivá myš
Ergonomie: univerzální
Podporovaný OS: WinXP, Windows Vista, Win7
Hmotnost: 200 g
Závěr
Za nabídnoutou cenu kvalitní myš dobré značky. Dojem tuctovosti nemusí zanechat na každém. Má vše, co by myš měla mít a precizně funguje. Můžete myš bez obav používat jak pro práci i k zábavě díky vynikající citlivosti i ve vyšším rozlišení.